We all know that a Lamborghini is a special car, but what if we told you that there are 10 models that go above and beyond the extremes of production screamers.
The CEO of Lamborghini, Alessandro Farmeschi, stated, "These cars give us the opportunity again as a brand to offer our clients something special."
Specifically, there have been about 14 specials, limited runs, and one-off of the Lamborghini that have went over the various factory extremes more than a few degrees. These Lambo's are much more than just a pretty car, there is many aspects under the hood that make this car rise above the rest.
Huracan STO
The Huracan STO, also known as "a road-homologated super sports car" is the most recent special-edition Lamborghini. The CEO even mentions this car being, "even more unique." This amazing sports car was inspired by the Huracan Super Trofeo EVOs that were included in Lamborghini's Sqadra Corse's one-make race series. STO stands for "Super Trofeo Omologato," which mean it is a homologation special version of the race car.
Once the streetcar was transformed into a version inspired by a race car, the car got 37% better overall aero efficiency and 53% more downforce over the Huracan Perormante. Other modifications include: a lighter windshield, magnesium wheels, and increased use of carbon fiber, knocking off 95 lbs. With three new modes increasing its performance and Brembo CCM-R brakes that make the brakes stop shorter. In addition, the Lamborghini has carbon filter seats, door panels, and floor mats.
This Special addition Lamborghini starts out at around $327, 838.
SC20 Roadster
The SC20, or the Squadra Corso 2020, was introduced about 4 months ago. This car was not designed for anything besides the racetrack. It was never restricted by crash-test standards or homologation requirements. The design was inspired by the Aventador V12 which is an open-top track car with no windshield.
This amazing SC20 Roadster is equipped with a 6.5-liter V12 which is tuned to 759 hp then routed to a 7-speed gear box that leads to all four wheels.
The inspiration behind this sportscar resulted in a "dramatic combination of creativity and racing attitude."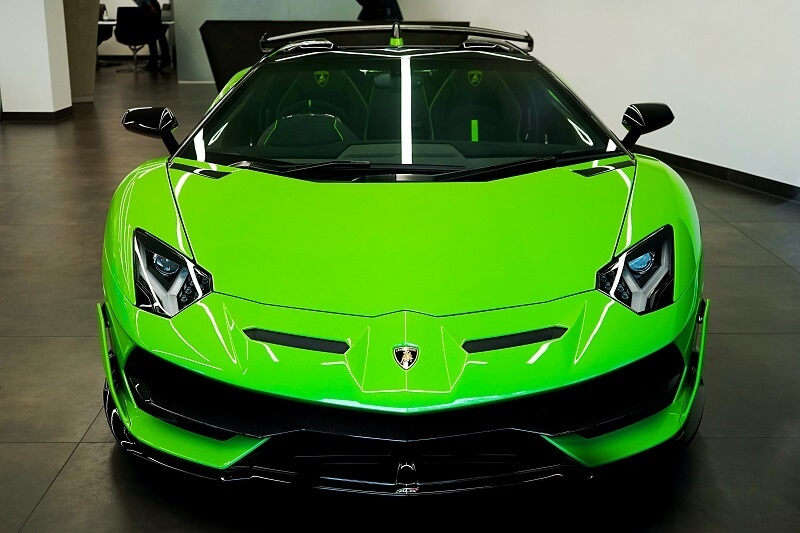 Sian FKP 37
The Sian FKP 37 incorporates an innovative hybrid drivetrain and is the very first Lamborghini hybrid. This car utilizes a supercapacitor, which releases and stores energy quicker than a typical car's battery pack.
With the combination of a 785-hp V12 from the Aventador and another 34 hp from a 48-volt motor this Lamborghini creates a total of 819 hp. The Sian has the highest total horsepower ever from a Lambo. Which makes this sports car the quickest Lamborghini, going from 0-60 mph in less than 2.8 seconds.
"With this car, we set ourselves the challenge of creating the best hybrid solution for a Lamborghini super sports car to provide us with the first step on our electrification strategy."
Lamborghini is challenging the system with new technologies that will indefinitely provide improved solutions in the car industry.
Sian Roadster
The Sian Roadster is basically the convertible version of the Sian FKP 37. It has the same 819-hp hybrid V12, allowing it to go from 0-60 mph in under 2.9 seconds. Just a tenth slower than the FKP 37.
The Sian's supercapacitor is three times lighter than a battery producing equal power and three times more powerful than a battery of equal weight.
The word "Sian" in Bolognese dialect of Sant' Agata means "flash" or "lightening." Which suits this car based on its specifications, mentioned above. Also being named the quickest Lamborghini just reiterates the fact that this car can fly down the road.
Gallardo LP 550-2
This special edition Lamborghini was designed for the legendary Lamborghini test driver, Valentino Balboni. After over 40 years of service the company showed their appreciation with the Gallardo LP 550-2.
The difference with this Lambo is that it is the only special edition with rear wheel drive. To prevent the drivetrain from blowing up, engineers had to recalibrate the drivetrain and detune it from 560 mph to 550 mph.
Balboni preferred RWD opposed to AWD because of it's lively and more engaging nature.
Centenario Coupe and Roadster
Created in celebration of Ferriccio Lamborghini's 100th birthday, Lamborghini came out with a limited-edition one-off based on Aventador.
In 2016, the coupe debuted at Geneva and was followed by the Quail in California by a roadster version.
Both Lamborghinis paid a tribute to Ferriccio Lamborghini with a 759-hp version of the Aventador's V12. Additionally, the most powerful Lamborghini ever made 0-62 mph in 2.8 seconds, 186 in 23.5, reaching a top speed of 217 mph.
Most would say that was a great tribute to the man who started this company from the ground up.
Reventon Coupe and Roadster
Over ten years ago the Reventon coupe debuted at the Frankfurt auto show, with 650-hp balanced and blueprinted V12, angular styling inspired by the F-22 Raptor fighter jet and a price of $1.365 million.
Two years later they reinvented the Reventon roadster, making it without a roof, and with 661 hp, reaching 0-60 mph in 3.5 second and a price of $1.6 million.
What sets these two cars apart is the fact that the design came directly from the sketch pad of the designers at Centro Stile, into CAD, and then straight to production.
Sesto Elemento
The Sesto Elemento comes from the Italian name of the sixth element. The sixth element is Carbon. This limited-edition Lamborghini was designed using carbon fiber, which makes up everything about this car besides the drivetrain.
In 2010, when this car debuted the CEO, Stephan Winkelmann, stated that the concept was to enhance the beginning of a greater use of lightweight materials in the company's cars. The Sesto Elemento weighed about 2,200 pounds.
With only 20 made, the price was set at $2.2 million.
Veneno and Veneno Roadster
This limited-edition Lamborghini was made to celebrate the 50th anniversary of Lamborghini as a company. The Veneno and Veneno Roadster showed off a cool concept-turned-very-limited production of a super car.
With inspiration from the AWD V12-powered Aventador, the Veneno goes above with 739 hp and reaching 60 mph in 2.8 seconds. It also has a top speed of 221 mph.
Each one has a price tag of $4 million. Lamborghini only built three coupes and nine roadsters.
Aventador J
"The Aventador J is a force of nature on wheels supremely powerful and supremely open." This is a roofless and windshield-less version that has 691- hp version of the Aventador.
With a top speed of 186 mph, it is suggested to wear a helmet and to flip the visor down.
The Aventador had no future of production and was a one-off. However, instead of tossing the design out, they created an "absolute one-off: a one-of a-kind piece of art."
In conclusion, Lamborghinis rise above the majority of cars that are on the market. If you have any questions about Lamborghini] we are here to assist you in every way possible.