Unless you've been living under a rock in the last decade, you have most likely taken part of the peer-to-peer movement which, starts and finishes in the palm of your hand.  Companies such as AirBnB (2008), Uber (20010), Lyft (2012), Venmo (2009), Zelle (2017), Letgo (2015) and countless others have cropped-up (seemingly overnight) to steal several existing and traditional market shares. It seems like everything from taxi services and food delivery to borrowing and lending money from your family or friends is up for grabs these days. Each geared toward simplifying the mundane and (or often) monotonous tasks of our everyday lives.
One of the newest, more promising platforms on the block is Turo; dubbed the AirBnB for cars. Originally founded under a different name (RelayRides), Turo already operates in nearly 5,000 cities across the U.S., U.K. and Canada. Armed with roughly 170,000 cars (and counting), along with another $92 million in capital, it's hard not to think they're just getting warmed up.

What Vehicles Should You Expect?
While it's well documented that the great majority of Turo members/users are that of an economical crowd, having the ability to rent an exotic, luxury or performance vehicle is not unheard of either.  The first few vehicles presented for our location were anything but economical. In fact, both our "featured vehicles" list (as soon as you sign into the app for the first time) and the initial vehicle results after putting in any of our South Florida locations (Delray Beach, Boca Raton, Deerfield, Lighthouse Point, etc.) yielded luxury and sports cars such as Audi, Mercedes, BMW, Tesla and Cadillac.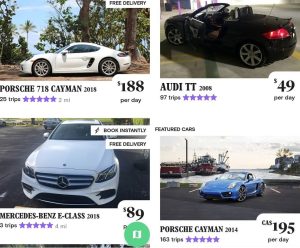 We set a date and time to pick up the vehicle, then made our selection (in our opinion, this is far better than getting stuck at a rental car company for an extended period of time, which seems to occur more often than not). There were well over a dozen options available and the pricing ranged anywhere from $30 to $200 per day, depending on the make, model and duration of the rental period. Keep in mind that just like the rooms, homes, apartments, etc. on AirBnB, most of the vehicles are not brand new thus, expectations should be tempered. The best bet is to research the vehicle owner information, rental history and reviews from previous renters (because just like any peer-to-peer service, it could get ugly quickly if you don't do your due-diligence).
Last Stop Before You're Driving
The last major hurdle in the vehicle rental process is the vehicle's insurance (luxury or not, you absolutely need to be covered in the event of an accident).  Turo attempts to make this process as painless as possible, offering premium, basic and out-of-pocket options for each renter (the agency they've partnered with is Liberty Mutual). We recommend at least the basic insurance because these days it doesn't matter how careful of a driver you are, accidents happen and you want to be covered. Turo states that if the vehicle is covered under one of their insurance plans they provide 24-hour roadside assistance but, fees may be applied if you need to be towed, have a tire changed, etc. Which tells us that while you may not be stranded for long, you'll likely coming out-of-pocket for it.
Time To Drive
The day you schedule to begin the rental period two things could happen; the vehicle owner could deliver it to you (may of the vendors offer free delivery to airports, some do not) or you may need to meet them/pick up the car at a previously disclosed location. It's always a good idea to check on this before completing the rental agreement because an Uber or Lyft ride from the airport to the pick-up location is often expensive enough to cancel-out the money you'd save with Turo over a rental car company (Turo claims that most renters save an average of 35% over a rental car company).
The Future of Turo Rentals – Instant Access to Luxury
Do you recall our earlier mention of a 92 million dollar investment? It just-so-happens that investment was made by none-other than Daimler (a Mercedes-Benz parent company), indicating that they may (and do) have somewhat of a "big brother" oversight in the company's current and future features and services.